EEG At Your Doorstep
Providing EEG services that are reliable, safe, cost-effective and convenient.
NEUROVATION SOLUTIONS
Why Home Video EEG?
While epilepsy monitoring units (EMUs) are the standard for the evaluation of epilepsy worldwide, they can mean high costs and long waiting times. Home EEG, involing varying degrees of professional supervision, serves patients at home and can be used as a faster and cost-efficient solution.
NEUROVATION SOLUTIONS
Benefits of Home EEG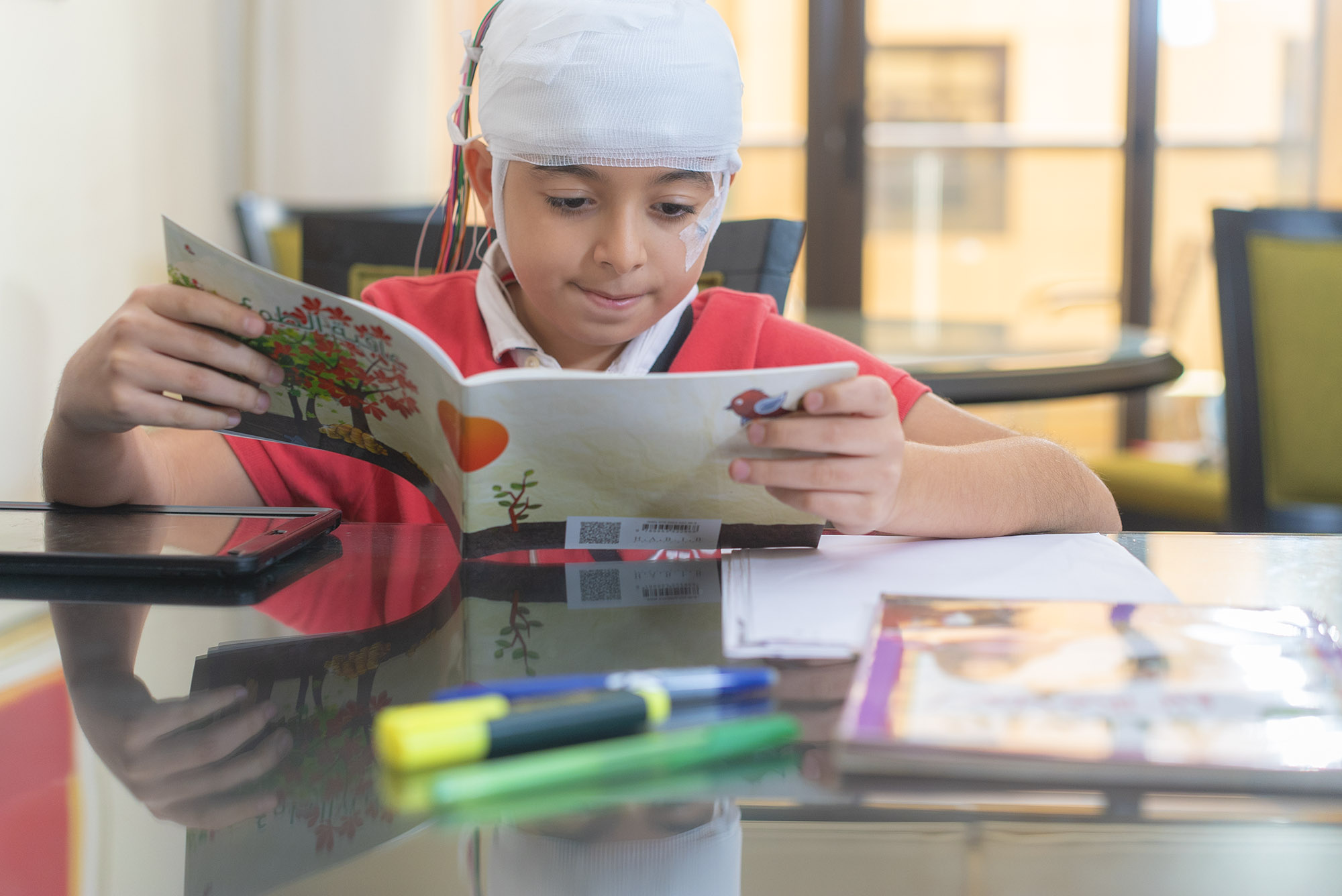 Neurovation team contacts the patient to arrange an appointment
Visit patient's home to set up electrodes and equipment
Remote EEG monitoring to ensure quality and integrity
Return to patient's home to disconnect electrodes.
Study completed and technologist EEG report shared
Final report completed by physician
Watch how Neurovation improves EEG testing for the patient & their family.
Frequently Asked Questions
How do I prepare?
We recommend showering the night before, or plan an assisted shower if medical limitation is present. Do not use any type of conditioner on your scalp or hair styling products (ex: mousse hair gel, oils, or hairspray).
What should I wear?
It is easier if you wear a shirt that opens to the front such as a button-down or zip-up. In doing so, it will make changing your clothes easier during the testing.
Can I shower during my testing?
You will not be able to shower or bathe during your testing. Sponge baths are allowed. If your doctor orders a prolonged study, a brief removal of equipment will be arranged to give allowance of shower time.
Will anyone be monitoring my EEG during my testing?
Our Patient Monitoring Team checks in remotely at least every two hours for integrity and quality review of your study. For emergencies, make sure to call +971 4 364 1220.
How often do I need to be on camera?
As much as possible. Your brain activity and body movement are two important factors for your diagnostic process. If you are on camera at all times, it is easier to
correlate brain activity with body movement, and this will ensure there are no gaps in your diagnostic evaluation.
Who can see me while I am on camera?
Your neurologist and Neurovation Solutions' Patient Monitoring Registered EEG Technologists can log in and view your study live.
Can I turn the camera off?
The video helps ensure that your neurologist obtains the best diagnostic yield possible, so the more time you are on camera, the better the chance your neurologist will have to draw accurate conclusions from the testing.
Should I be on camera even while sleeping?
Yes. It is just as important to correlate brain activity and body movement while sleeping as it is while you are awake.
Is the live video secure?
Yes, it is in accordance with HIPAA standards.
Can I leave the house?
We ask that you stay home, however, if you must leave please call our Patient Monitoring Department to alert them prior to departure and keep your time away to under 30 minutes.
Do I have a log that I need to complete everyday?
Absolutely. We want to know everything, so your physician will have as much information as possible
How detailed do my logs need to be?
We want you to log all events, symptoms, and involuntary movements. Even though they may seem irrelevant, these details become a tool to your doctor and may also assist in ruling out abnormal EEG activity with even the smallest symptom documentation. Our monitoring team will be calling for your daily event and skin checks.
Do I have a direct line to Neurovative's monitoring desk during the study?
Yes, you can reach us 24/7 on our Patient Monitoring line. Call us at (971) 4 364 1220
How do I schedule my appointment?
Once we receive a referral from your doctor, our scheduling coordinator will reach out to you once it is processed. If you have questions about the status of your referral, give us a call. You may also visit our website to tell us about your preferred appointment dates and times.
Can I use my electronic devices?
The use of electronic devices is permitted during EEG monitoring.
Do I have a log that I need to complete everyday?
Absolutely. We want to know everything, so your physician will have as much information as possible
Does it hurt?
No, no part of our process causes any pain. Neurovative Diagnostics puts your comfort and safety first with each and every one of our EEG monitoring services.
Do I have a log that I need to complete everyday?
Absolutely. We want to know everything, so your physician will have as much information as possible
Can I work out?
No, working out during EEG monitoring procedures is prohibited because excessive sweating can affect the integrity of the study. Mild workouts done in the home that your Neurologist approves (to trigger symptoms) may be considered – we would suggest that any workout which results in profuse sweating is avoided.
What is a Long Term EEG with video?
Long Term EEG with video is a neurodiagnostic test that measures and records the electrical activity in your brain using electrodes that are strategically placed on the scalp. We also use video and audio to help correlate the EEG with body movements and in some instances involuntary verbalization. All of these aspects used together are instrumental in the diagnosing process.
Long Term EEGs have a longer duration than a specific timeframe, such as in a routine EEG. This allows for a more comprehensive look at the patient's cerebral activities.
Can I drive?
Driving is a discussion you should have with your physician.
How long do I have to wear it?
The amount of time the device will have to be worn will be determined by your physician. Though it differs on a case by case basis, it is typically from 3-10 days.
Do I have to shave my head?
Absolutely not. Neurovation Solutions' services will never require our patients to shave any part of their heads.
Does it cause my hair to fall out?
No, nothing we will do will cause your hair to fall out.
Do you use the glue that smells bad?
No, Neurovation Solutions does not use the collodion glue. The method we use is odorless and does not require the difficult removal process that collodion glue does.
Can I smoke?
Yes, as long as it is done away from equipment. Please refrain from smoking in front of our technicians during your setup or disconnect appointment.
How long does it take to get the results?
It typically takes 7-10 days after your testing is completed. The collected EEG data will be interpreted by a qualified Neurologist and a final report will be drafted with their findings. Your may find out the results at a follow-up appointment or after the results have been sent to the referring provider.
When should I schedule my followup appointment with the ordering physician?
If your physician wants to see you for a follow up after study completion, it is advised to schedule a followup appointment two weeks from the date you are finished with your study.
Why In-home EEG vs. in-hospital stay?
In-home EEGs minimize hospital stays for the child
Reduces caregiver burden (travel, schedule changes, leaving home, etc.)
Helps with patients who have a fear of hospitals
Provides the comfort of being in their own home with family and friends
Captures the events in the child's natural environment with everyday triggers (stress, family, homework, sleeping in their own bed, TV, etc.)
Does it hurt?
No it doesn't hurt at all.
Do I need to cut or shave my child's hair?
Can my child take a bath or shower?
No. Only a sponge bath is allowed.
Can my child play outside?
Yes, as long as it isn't extremely hot. We don't want them sweating excessively.
What should I expect?
Your physician will notify us regarding what type of study your child will need. Upon completing our verification process, our scheduling department will call and set up the appointment. Prior to the child's appointment one of our technologists will call you and explain the test and answer any questions. On the appointment date, the technologist will arrive at your home and set up the equipment. They will place disc shaped electrodes with cream on the surface of the scalp and cover each disc with tape. When all the electrodes are on, the child's head will be wrapped with gauze and secured with paper tape. All of the electrodes connect down into a box that stays zipped in the backpack that the child wears. The device will need to be worn for the amount of time your physician specifies. Upon completion of your study we may have you self-disconnect the electrodes, or the technologist will remove them when returning to pick up our equipment.